Barbra Streisand once said in a semi-recent interview that music is a remarkable way to mark time, serving, among other things, as a portal by which we are transported to whenever and wherever we were as a certain song or album happened to be playing at the time, coloring our lives with it's music and in turn, creating a memory to look back on, be it fondly or otherwise.
As 2013 has come to a close, many forgettable albums have come and gone, as is always the case with each passing year. However, as per usual, there have been a select group of truly remarkable and impressive releases by a diverse number of musical acts ranging wildly in genre, style, and age, creating music that resonates with moments in our lives, be it what we love, what we hate, relationships, life struggles, or whatever the case may be, like any great album, those found in this list serve to illuminate these moments in our lives and serves as the truly moving catalyst by which memories are made.
50. F.K.U. - 4: Rise of the Mosh Mongers
These unsung heroes of horror-themed Crossover Thrash return once again with a more than solid addition to any crossover fan's collection. Don't be too bummed that Nuclear Assault is gone. These guys are still delivering.
49. Stonehenge - Bunch of Bisons
2013 was an AWESOME year for stoner rock and Doom metal-related artists, and the like. I did not expect so many albums of this variety to make my top 50, but they did, starting with this incredibly solid and impressive stoner rock release by Stonehenge. Try not to jam out to this album. I dare you.
48. I Kill Giants - I Kill Giants
I'm not a huge Math Rock fan, but these guys really hit it out of the park with this album, easily earning it a solid spot in my top 50 with it's crazy, eclectic blend of math, punk, and emo, careening chaotically from the speakers to your willing ears.
47. Sodom - Epitome of Torture
Without a doubt, Sodom's most solid release in years, Epitome of Torture embraces modern Thrash with great results. Blasting forward at high speeds or trudging on with bludgeoning, mid-paced riffs, Sodom proves they still have the goods.
46. Mammane Sani Abdullaye - La Musique Electronique du Niger
Two things make this release stand out from the rest on this list: the fact that is a minimal synth album, and that it is a reissue, which may be breaking the rules a bit, but it is a very important release, and one which I believe people should get to know much better. I discovered it myself this year, and I must say, it's been one of my favorite albums released (technically re-released) in 2013.
45. Oneohtrix Point Never - R Plus Seven
Cold and bright synths color this album and add an aesthetic that is at once textural and primitive, crude and atmospheric, accessible and experimental. This is truly an electronic album that pushes boundaries, though in a way that is still very much listenable.
43. Scale the Summit - The Migration
Scale the Summit's best album to date, a perfect marriage of the mellow, often emotive, melody employed in The Collective and Carving Desert Canyons, as well as the increased tempo and technical flash evident in their first album. As unlikely as it is for a Progressive Metal band to make any list of mine, this is one release that I can't get enough of.
42. Stratovarius - Nemesis
With this new release, Stratovarius take on a much harder-edged sound than ever before, integrating progressive metal into the mix with mind-blowing technicality, stunning songwriting, and those wonderful, massive hooks that we've come to expect from great Stratovarius albums.
41. Seasick Mama - Tip Top Shape
Dance Pop and 60's-flavored Indie Rock coexist in a manner that's as shamelessly stylish as is it is just plain fun, all wrapped up in competent songwriting and tasteful production.
40. Summoning - Old Mornings Dawn
When it comes to Lord of the Rings themed Black Metal, I can say with confidence that no one does it better these days than Summoning, as shown clearly in their newest album, Old Mornings Dawn.
39. Hello Phones - Future City
There's something to be said about bands that make what they do seem completely effortless. Electronic Dance Punk band Hello Phones bring us a release that's more mature, polished, and confident than their debut, genre-bending and meshing styles together without breaking a sweat.
38. Friendzone - DX
If there's any Cloud Rap album that truly deserves real acclaim and notoriety, it might just be this one. Dreamy and intelligent compositions are Friendzone's bread and butter, with tasteful beats and immaculate production. Truly worth a listen as a perfect introduction to the mostly instrumental Cloud Rap genre.
37. Goldroom - Embrace
Gorgeous electropop that excels in catchiness while maintaining a touchingly personal atmosphere. Add a beautiful, airy production, stunning vocals, and wonderfully dynamic synth sounds and you have Goldroom's stellar
Embrace
.
36. Chelsea Wolfe - Pain is Beauty
A chillingly austere and gloomy work of art,
Pain is Beauty
provides a brilliantly haunting and emotional journey through melancholy hooks, swelling dynamics, and bleak pop sensibilities. An album full of contradictions has never sounded so good.
35. Sidewalks and Skeletons - This is Your Escape
Not a lot of Witch House albums are good enough to make any end of the year lists, but believe me, this one is. Sidewalks and Skeletons have crafted an album disturbingly dark, filled with instrumental songs that could serve as the soundtrack to your worst nightmares, while still retaining a strong sense of melody with as much attention focused on competent hooks as there is on a haunting atmosphere.
34. Cryptic One - FYSM
Cryptic's second release of 2013 is a boldly defiant hip-hop album that doesn't even try to beat around the bush. There's no mistaking it; Cryptic is definitely making a statement here with brash and brazen confidence, one that frankly, I don't mind hearing. With more than complimentary samples and production and a loose yet deliberate flow to boot,
FYSM
does not fail to impress.
33. Toxic Holocaust - Chemistry of Consciousness
Joel Grind's unruly Thrash baby returns yet again with one of their most fresh-sounding releases to date, this time employing, as Angry Metal Guy so accurately put it, more proto-Thrash influence this time around, with a bit of a Crossover Thrash flair as well. It's not easy being cheesy, but Toxic Holocaust do it better than anyone, and with much more authenticity and conviction.
32. Juliana Barwick - Nepenthe
A stunningly intimate and personal approach to ambient and atmospheric music, employing reverb-soaked vocal passages, and creating a surreal and comforting soundscape much like walking through a dream.
31. Paysage d'Hiver - Das Tor
A raw Atmospheric Black metal opus with all the bleak and barren ferocity of a chilling winter landscape, just how Wintherr likes it, and frankly, given the sound of this album (and most all of his previous releases), I wouldn't have it any other way.
30. This Patch of Sky - Heroes and Ghosts
In the tired and tried genre of Post Rock, it's refreshing to have a band that really knows how to mix it up and deliver a quality Post Rock album. Well, I'm happy to say, This Patch of Sky is that band.
Heroes and Ghosts
is full of dynamic, consistent songwriting that makes it wholly listenable and enjoyable.
29. And So I Watch You From Afar - All Hail Bright Futures
High-energy Math Rock utilizing tremendous chops without falling into the habit of becoming too self-indulgent or obnoxious. Again, I'm not a very big Math Rock fan, but these guys really hit it out of the park.
28. Carcass - Surgical Steel
Carcass surprised us all with this remarkable comeback that puts the tired newer works of contemporaries Obituary and Morbid Angel to absolute shame. Utilizing strong, melodic grooves and occasionally borrowing from the sounds of old-school Death Metal, Surgical Steel somehow sounds more fresh than any other Death Metal album I've heard this year, by far.
27. Black Milk - No Poison No Paradise
A dark, insightful, and personally reflective Rap album with some of the most thick, dirty beats I've ever heard, and some truly grinding saw-tooth synths that paint a twisted, though not disgusting, personal portrait captioned masterfully with competent rhymes and flows.
26. Savages - Silence Yourself
Incredibly sincere Post-Punk with a little New Wave thrown in for style. The songwriting here is remarkably catchy and very sharp, with that classic 80s Post-Punk tone and production that is oh so satisfying.
25. CHVRCHES - The Bones of What You Believe
In an age where Synthpop bands are a dime a dozen, it's becoming harder and harder to find one that fully embodies everything that makes the genre great. CHVRCHES have done just that.
Bones
is a dramatic and deeply emotive Synthpop masterpiece with all the hooks, melodies, and atmospheres that make the genre worth coming back to. And don't even get me started on those vocals.
24. Gorguts - Colored Sands
With Gorguts' first release in 12 years, the legendary Death Metal act, famous for their ambitious use of technicality and dissonance in the genre, not only lived up to their colossal expectations -- they far exceeded them.
Colored Sands
is a perfectly engaging, absorbing, and dizzying flurry of perfect riffs and rhythms. Really, everything a modern Death Metal album should be and more. This one is not to be missed.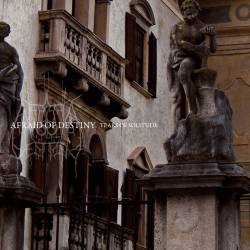 23. Afraid of Destiny - Tears of Solitude
Here's one to really pay attention to: virtually unknown Depressive Black Metal band Afraid of Destiny. While the name of the genre may put you off, I highly suggest you give this one a listen anyway. If I've heard a more overwhelmingly beautiful album in this genre, I don't remember it. From the opening arrangement of Barber's Adagio for Strings, this album loses you in swirling distortion and despairing melodies.
22. Satan - Life Sentence
A brilliant return-to-form by one of the most important, pioneering New Wave of British Heavy Metal bands. This album goes no-holds-barred, raging forward with speed metal riffs that would make any of these New Trad Metal bands hang up their guitars in shame.
21. Big Big Train - English Electric Part Two
If classic Progressive Rock is experiencing a renaissance, then Big Big Train is among one of it's greatest artists. If you love Progressive Rock a-la Genesis and Yes, but don't want to listen to a boring rip-off or rehash, then this is one you
need
to listen to.
20. Omnium Gatherum - Beyond
Melodic Death Metal tends to be a subgenre that I love unconditionally, even if the band I'm listening to tends to be a little generic. I'm just obsessed with the marriage of brutality and catchy melodies. Well, Omnium Gatherum is not generic in the least.
Beyond
is very well-written, incorporating more progressive elements while keeping with the tried and true melodic compositions and dynamic hooks.
19. Goldfrapp - Tales of Us
In stark contrast to Goldfrapp's 2010 release,
Tales of Us
is a slow, moody, delicate, and dreamy collection of tender, emotional pieces that flourish and diminish as is appropriate and comfortable. This is certainly a release you can get lost in.
18. The World is a Beautiful Place & I am No Longer Afraid to Die - Whenever, If Ever
I haven't listened to a really good, solid Emo album in a long time, perhaps more because I haven't been looking than because there's been some sort of shortage of quality Emo records. Regardless, this one hits the nail on the head in so many ways. If there's any such thing as a perfect Emo LP, this could be the one, full of powerful melodies and all that raw personality that makes Emo so satisfying.
17. Uncle Acid and the Deadbeats - Mind Control
Uncle Acid is one of those bands that never fails to get me excited. My love for 70s occult rock, pop, and proto-Doom as well as the horror movies from the same decade are all satisfied here with this more polished (though by no means sterile) Deadbeats album with it's retro vibe and well-composed songs to match.
16. Holy Grail - Ride the Void
Holy Grail is easily one of my favorite metal bands to come up within the past ten years, and this album just reaffirms that opinion even more so. This time around, Holy Grail have embraced more of a modern metal sound than an old-school, one, though that stunning sense of melodic composition is still very much in tact. Oh, and they still shred, too.
15. Jonwayne - Rap Album One
Musically speaking,
Rap Album One
is a statement of bold experimentation, while lyrically (and vocally) Jonwayne remains passionately straightforward and accessible, Yin and Yang, if you will.
14. My Bloody Valentine - m b v
Of all the great comebacks this year, this album is one of the best. Essentially picking up where
Loveless
left off,
m b v
captures and engages us in a similar, wall-of-sound aesthetic with flanging shoegaze guitars, but that's not to say this is another
Loveless
, rather, this album feels more raw, and less linear, truly a sound that's out of this world.
13. Fractal Gates - Beyond the Self
Easily the best Melodic Death Metal album of 2013. Fractal Gates really have it all, the killer melodic riffs, huge arrangements, and most importantly, diverse, varied songwriting. This is exactly what Melodic Death metal should sound like, truly incredible.
12. Jex Thoth - Blood Moon Rise
Ever since I first listened to her 2008 self-titled masterpiece, I've been hooked on the Thoth hardcore, with good reason. Her Black Sabbath-meets-Jefferson Airplane signature sound has impressed and floored many, and while she's softened up her sound this time around, she's still delivering top-quality proto-Doom with powerful, soaring melodies, and trippy riffs.
11. Darkside - Psychic
Pop music's answer to Pink Floyd, Darkside has dished out a batch of progressive, ambient pop music with electronic flourishes and rampant experimentation, though not at the expense of accessibility in any way.
Psychic
is a smart pop album that takes accessible music to a whole other level in pushing boundaries and breaking new ground.
10. Avatarium - Avatarium
A hauntingly beautiful Traditional Doom Metal album made a masterpiece by it's almost theatrical arrangements and the gorgeous vocals of Jennie-Ann Smith. The album is both tranquil and crushing, creepy and serene, and just as much as it is Candlemass and Trouble, it is also Jethro Tull and Blue Oyster Cult. In summation, this is easily one of the most memorable Doom Metal/Rock albums I've heard in a very long time.
9. Thrawsunblat -Wanderer on the Continent of Saplings
It's not news to anyone whenever a band comes out and mixes together Black Metal and Folk Metal. It's been happening for a while now, and to be honest, it's getting a little old. Then, out of the blue, Thrawsunblat takes that Black/Folk combination and creates an absolutely stellar album that hits you with some of the best Folk Metal you've ever heard. Powerful, dynamic hooks and melodies, passionate and epic riffs, and nature themed lyrics all contribute to a creative and diverse Folk Metal album that easily makes my top ten.
8. Danny Brown - Old
Danny Brown's focus on dynamic production and eccentric beats, fusing many elements of electronic music and rap music, has made for a more musically engaging album than his last. We have trap and grime influences pervading the sounds of this album as well, creating some of the downright filthiest beats you'll hear this year. Even so, Danny Brown's lyrical narratives are really what hit hard on this album. Brown takes us on a dark journey through his self-destructive, loose lifestyle, a true compliment to the music and production. All in all, I can say with confidence that, for all these reasons,
Old
has become my favorite Hip-Hop album this year.
7. Bloodgroup - Chasing Echoes
Far and away, one of the most beautiful electronic albums I've ever heard. Sweeping synths, deep bass, and wistful vocals dominate the vibe of the album with an ethereal atmosphere, but there's a strong dose of variety as well. Tracks go through variations of drum and bass, downtempo, dreampop, and trip-hop, all under a cold, yet highly emotional, aesthetic.
6. Ayreon - The Theory of Everything
No one ever said writing a rock opera was easy. Being a good (or even great) songwriter does not mean that you can write a good rock opera. It's difficult to find that balance of good musical composition and the fun, engaging vibe that makes a rock opera good. All in all, I cant probably count the amount of great rock operas on one hand, and oddly enough, Ayreon's
The Theory of Everything
might just make it on that hand-count. With a myriad of brilliantly cast musicians (Christina Scabbia, Rick Wakeman, Steve Hackett, Keith Emerson, John Wetton, and many more), the songs truly take on a dramatic and dynamic personality, with many stylistic nods to classic 70s Prog Rock. This is one release that keeps you completely invested for its entirety, as any great Rock opera should.
5
. Joywave - 88888
To say this album is extremely ambitious would be an understatement. Under the apparent blanket genre of Electronic Dance Music, Joywave explore and merge a large variety of genres and styles, such as Hip-Hop, Rock, glitch, and synthpop for an altogether new and fresh musical experience that leaves almost no stone unturned when overreaching for new experimentation. Thankfully, in overreaching, Joywave managed to grab on to what they were reaching for, to great success.
4. Black Sabbath - 13
Where do I begin? Black Sabbath releases their first album with Ozzy Osbourne since the 70s, and it is absolutely incredible. A Doom-laden monster with classic Sabbath riffs and Ozzy's lengendary, bone-chillingly evil vocals,
13
seems almost too good to be true given how long it's been since a Sabbath album featuring Osbourne and how many comebacks are haphazard at best. If Black Sabbath decided to never make another album for the rest of their lives, I would be more than satisfied with this final entry in their massive, legendary discography.
3. Julia Holter - Loud City Song
An utterly genius Avant-Pop interpretation of the 1958 musical
Gigi
(and the original 1944 novella), Julia Holter brings a high-energy, even inviting approach to her unique style through ballroom ballads and jazz infused pop anthems that breathe with more life than any pop album you'll ever hear. The energy of the city is more than evident on this release, one that can be almost nervous with busyness, and yet, there is still a strong sense of intimacy and personality within the tracks on this album, wrapped loosely around the musical muse of
Gigi
without becoming a creatively binding concept. Rather, everything here is allowed the breathing room it needs to grow into the brilliant Avant-Pop masterpiece we see here as
Loud City Song
.
2. Born Gold - I Am An Exit
The fact that these guys are as unknown as they are should be a crime. Born Gold have an unreal sense of rhythm and a knack for non-musical instrumentation that is almost unparalleled. Aside from this, it's actually a little hard to describe why this album deserves to be number two on my list, other than the fact that they are just incredible songwriters. The recurring theme for this album seems to be an eighties, synth-driven one, but the compositions go much deeper than that surface aesthetic. The album has even drawn comparisons to Maynard James Keenan projects Tool and A Perfect Circle. This is really one you just need to hear for yourself to really understand the genius here. Trust me, you won't regret it.
1. SubRosa - More Constant Than Gods
When one thinks of heavy Stoner Doom Metal in the vein of Electric Wizard, beauty is not something that comes immediately to one's mind, if at all. That is where SubRosa excels. No matter how unrelentingly heavy it gets, the music always has that beauty, from the juxtaposition of heavy riffs and violins, to the beautifully haunting vocals, to the overall atmosphere of the album, which lends itself heavily to the masterful compositional skills of the band, creating passionate, powerful, and heavy music, constantly being complimented and enhanced by swelling orchestral arrangements.
Choosing a number one album this year was extremely difficult for me to do. In fact, I believe that any of the albums in my top ten are good enough to be number one, but I do think this one was the right choice. Do you agree? Why or why not? What albums would make your list that weren't in mine? Leave a comment and let me know!